Description
Sir Jackie Stewart – Devoted – Race Against Dementia Limited Edition of 50 Print by Wayne J Henley and individually signed by Sir Jackie Stewart.

DEVOTED, is a very special work of art depicting the beautiful relationship between The car, Sir Jackie and his adoring wife Lady Helen. The dream team of Formula one that has created one of the longest ever love stories to come from a race track.  Sir Jackie was delighted with the finished piece and in particular he remarked on just how accurately his and Lady Helen's portraits were and also how good the Tyrrell looked.
Proceeds from the prints go to Race Against Dementia to help support the ground braking research they are doing to stop this terrible illness. This painting includes Sir Jackie driving a Tyrrell and also a portrait of him with Lady Helen Stewart reflected in the lens of his sunglasses.
Race Against Dementia is driven to raise money to fund breakthrough and innovative dementia research.  Lady Helen's battle has inspired Sir Jackie to create Race Against Dementia.
This artwork was created using oil paints on canvas, after weeks of preparation the painting process itself which will take over 150 hours to complete.
This is a Giclée Fine Art Print which is produced using pigment colours for more vibrant and long lasting results, which being a Giclée print this ensures a minimum display life of 100 years under normal indoor conditions.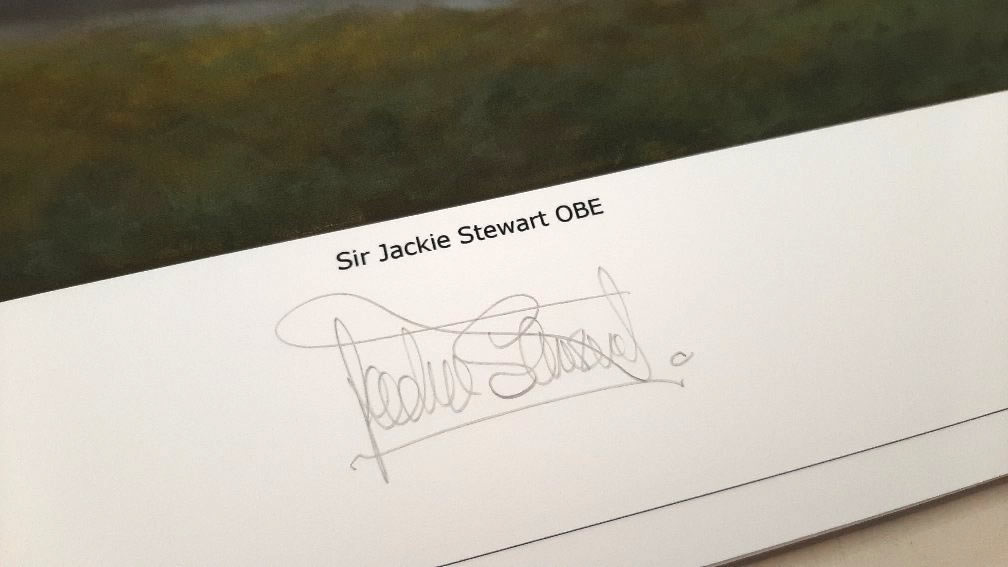 Individually signed by Sir Jackie
Size 88cm x 43cm – On 230gsm Acid Free Smooth Matt Ultra Art Paper, each print is personally inspected and hand signed by the artist and comes with it's own certificate of authentication plus each print is also individually signed by Sir Jackie Stewart

This limited edition print has a worldwide limited edition print edition of just 50 pieces.
Unless agreed before hand with me your print number will be allocated based on the next available up to 50, if you do have a preferred print number please contact me either by email or on facebook messenger after ordering to see if it is available.
IMPORTANT: Please email or message me on facebook to reserve a particular print number.
Prints are supplied worldwide in a strong postal tube (Prints are NOT framed).
The original artwork is for sale, please contact Race Against Dementia for details
This artwork is now complete, prints signed by Sir Jackie Stewart are available for immediate distribution NOW!