Description
Lewis Hamilton – Still I Rise Limited Edition Print by Wayne J Henley
** Payment plan – If you are paying by PAYPAL I can offer a flexible payment plan to suit your requirements. pay just £80 (Canvas print) or £50 (Paper print) deposit to secure your print & number then pay as much and as often as you want until balance is completed.  – Please contact me for details **
This artwork is dedicated to the 6 time F1 world champion Lewis Hamilton.
Lewis is arguably one of the finest drivers ever to compete in Formula 1, in 2019 he recorded his 6th World championship win putting him 1 behind Michael Schumacher. With many more seasons ahead of him its not unrealistic to expect Lewis to equal and even surpass this record to be the most successful driver in Grand Prix history.
This artwork was created using oil paints on canvas, after weeks of preparation the painting process itself which took over 160 hours to complete.
This is a Giclée Fine Art Print which is produced using pigment colours for more vibrant and long lasting results, which being a Giclée print this ensures a minimum display life of 100 years under normal indoor conditions.
Choice of formats…. Either full size canvas original replica or size specific paper
Size 120 x 50cm – On Ready To Hang Pre-Stretched Canvas  (Same size as original)
Size 81cm x 37.5cm – On 230gsm Acid Free Smooth Matt Ultra Art Paper
(Please note 59.4cm x 28cm & 42x20cm are unavailable sorry)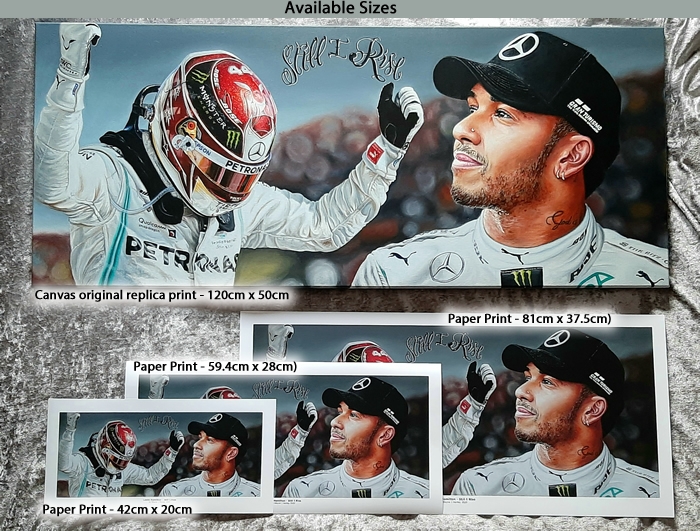 Each print is personally inspected and hand signed by the artist
Each print comes with it's own certificate of authentication.

This limited edition print has a worldwide limited edition print edition of 250 pieces and is available in 4 choices/sizes.
Print numbers are allocated sequentially from 1 to 250 regardless of print choice (canvas/paper), if you have a preferred print number please contact me either by email or on facebook messenger after ordering to see if it is available (sorry but prints #1 and #44 are not available).
IMPORTANT: Please email or message me on facebook to reserve a particular print number.
Prints are supplied worldwide (Prints are NOT framed).
The original artwork is currently not for sale.
Please allow extra time for Canvas order as these are usually made specifically for each order, please allow anywhere between 14 to 30 days.
If your canvas order is time sensitive please contact me before placing your order as I may be able to speed things up slightly if I have a canvas in stock.